Smart stretch
BioniX Background Wallpaper Changer can automatically fit wallpapers even if they have a different aspect ration than your monitor. Below you can see a wide (16:9) wallpaper on a 4:3 monitor.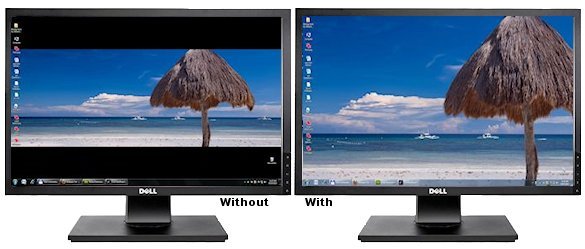 Border fade
BioniX Background Wallpaper Changer automatically adds a fade effect to your images.
Dual monitor support
BioniX Background Wallpaper Changer auto detects dual monitor (multi monitor) configurations and sets the wallpaper in miscellaneous ways:
Clone wallpaper on all monitors
Individual wallpaper on each monitor
Expand wallpaper on all monitors
The Panic button
Quick! Your mum is coming! Hit the Panic button to replace that blonde girl you have on your desktop with something decent (like a penguin). What? You don't like penguins? And... don't forget to pretend you're busy!
Change wallpapers at specific hour of the day
With BioniX Background Wallpaper Changer you can the wallpaper at specific hour(s) of the day. The time is extracted from the wallpaper's name automatically. For example BioniX can show a sunrise wallpaper at 8:12 AM and a sunset wallpaper at 8:30 PM.
Dynamic webcam wallpapers
BioniX Wallpaper Changer can use dynamic images from a web site as wallpaper. This means that when the images changes online, the wallpaper changes too.
Simply put, you can use a life web cam (for example one streaming images from a beach, or street view) to animate your desktop. More information about dynamic web wallpapers here.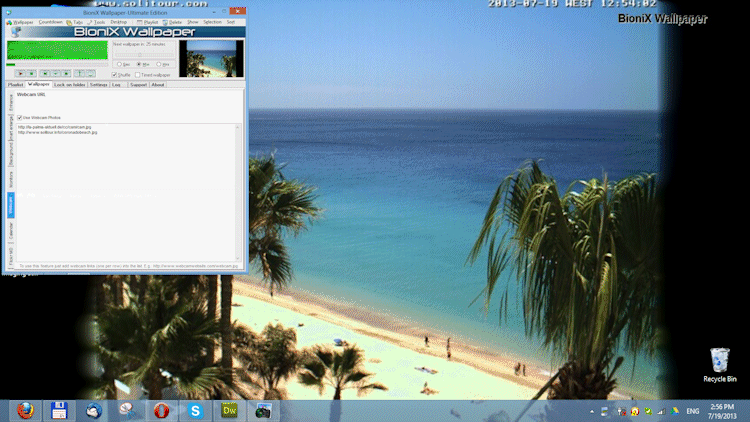 Strip all wallpapers from any web page
Stumbled over a web page with lots of cool images. But now you have to manually download them, one by one... or... not? With BioniX Wallpaper Changer you can download all images from a web page at batch and instantly add them to the current playlist. More information about how to download images at batch here.
Automatically download wallpapers from Flickr
BioniX Background Wallpaper Changer uses the Flickr Mass Downloader (tool integrated in BioniX Wallpaper package) to view and download millions of wallpapers from Flickr website. Flickr Mass Downloader can filter out low resolution images. And you don't even need a Flickr account to do all this.
Day and night wallpapers
Day/Night Wallpaper module allows BioniX Wallpaper Changer to show bright wallpapers during the day and dark wallpapers during the night.
More information about Day and Night wallpaper function here.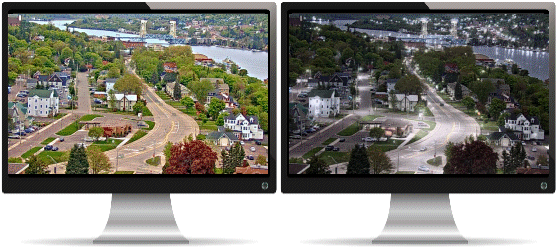 Rotate your digital camera photos automatically
BioniX Wallpaper knows when to automatically rotates your digital camera photos. Digital cameras automatically add a special field (called EXIF) to photos. EXIF contains miscellaneous information about the picture such camera orientation (portrait/landscape), GPS coordinates, etc.
You can also manually rotate your wallpapers.
Enhance your images
Poor wallpapers? BioniX Wallpaper allows you to enhance your wallpapers by changing their color saturation, brightness and contrast.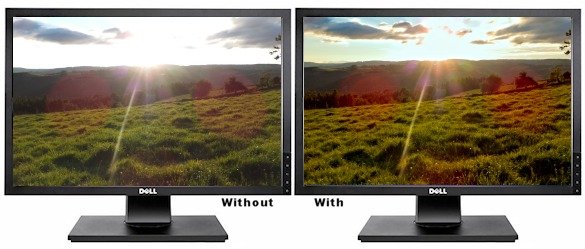 Cannot see your wallpaper because your icons?
Usually the artists are 'concentrating' the image on the left side of the image. Unfortunately, desktop icons are also cluttered on the left side of the screen, hiding the best parts of your image. BioniX Wallpaper allows you to quickly flip your background wallpaper so the main part of the image is now on the uncluttered side of the screen.
Always know your wallpaper
BioniX Background Wallpaper Changer can show the name of your current wallpaper right on your desktop. You can change the position of the text to the left/right side corner, or center. Wallpaper's name is also shown if you move your mouse cursor over BioniX's icon in system tray.
Lock on folder
This absolutely unique function allows BioniX Background Wallpaper Changer to actively monitor a specified folder. The program will automatically update its playlist as you add (or delete) files to that folder.
Change wallpaper once, then die
BioniX Wallpaper can change the wallpaper once, at computer start up, then shut down itself.
Uncluttered your taskbar by moving the icon to system tray
BioniX Background Wallpaper can move its icon from taskbar to system tray. BioniX will display the count down (remaining time until next wallpaper) in the icon. Also, a handy pop-up menu will show up if you right click the system tray icon.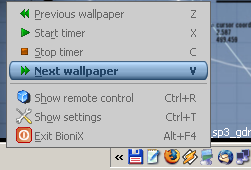 Always tuned on our frequencies
BioniX Background Wallpaper Changer can automatically check for updates once per day. For those that haven't heard yet, the updates are free!
Control your BioniX with a single stroke
BioniX Background Wallpaper Changer supports system-wide shortcuts. These are combinations of keys that work everywhere even if BioniX Background Wallpaper Changer is minimize/not visible on screen. For example you can press "Control+Alt+N" to switch to the next wallpaper or "Control+Alt+I" to hide desktop icon or "Control+Alt+P" to go to Panic mode.

State of the art resamplers

The word "resampler" may not ring a bell for some, but believe us, when you are working with images this is the first thing you should look after! A resampler is a special algorithm used to resize an image. Resizing the wallpaper using poor resamplers will ruin it. BioniX Background Wallpaper Changer offers you state of the art resamplers, resamplers impossible to find even in professional image processing tools.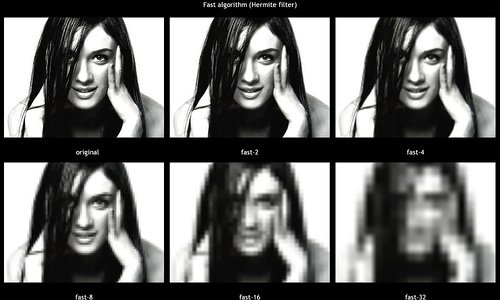 Not just a wallpaper manger. Also a time manager!
You have an important meeting in 30 minutes and you are keeping an eye on your clock? BioniX Background Wallpaper Changer can display a huge digital clock over your desktop. You won't miss your appointments anymore!
Additional tool integration
BioniX Background Wallpaper Changer seamlessly integrates with "CategorizeThis!" and "Painless Image Resizer", two programs that will make your life easier and your desktop prettier.
Edit your wallpaper
BioniX Background Wallpaper Changer allows you to define a preferred image editor and open any wallpaper in the editor so you can quickly edit it.
Hm... is it Monday already?
BioniX Desktop Wallpaper Changer can show a transparent calendar over your desktop wallpaper so you won't forget your wife's birthday (again).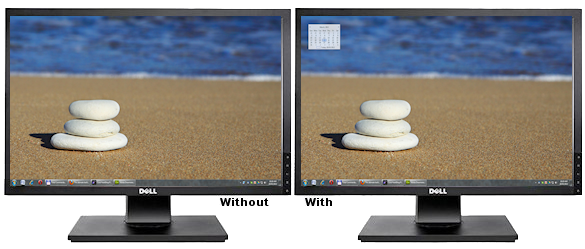 Support for WB1 files
BioniX Desktop Wallpaper Changer provides support for WB1 wallpapers (Webshots users will really appreciate this).
Smart tile
With BioniX Background Wallpaper Changer even low resolution/ tiny images can be used as wallpapers.
Smart algorithms tells BioniX Background Wallpaper Changer when it is necessary to tile an image or to mirror it (both horizontal and vertical mirror effects are supported).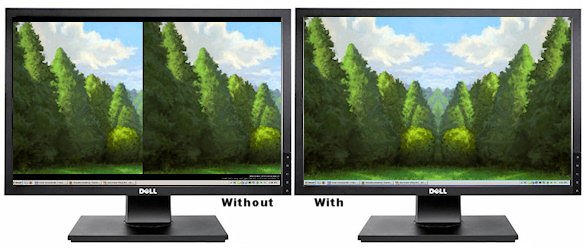 Perfect tile
If an image needs to be tiled and its height is pretty big (over 50% of desktop's height) BioniX Desktop Wallpaper Changer will tile it only horizontally but not also vertically.
In other words, the image will look like a band over the entire length of the desktop with black stripes above and below.
| | | |
| --- | --- | --- |
| | | |
| Original image | Tile (without Perfect tile) | BioniX's Perfect tile |
Don't suck my battery!
BioniX Background Wallpaper Changer can be set NOT to change your wallpaper if the CPU is busy (if you are playing a game, for example) or if your laptop is running on batteries. BioniX Background Wallpaper Changer displays info about your battery status and can announce you when the laptop switches from AC to batteries.

Know it all
All operations performed by BioniX Background Wallpaper Changer are recorded in a log. Different levels of verbosity can be set.
---
The Playlist Editor
The playlist is plain and simply a jewelry. You can customize multiple aspects of your playlist editor, such as filtering, font, color, etc. It shows the name, path, resolution file size, category and the rate you gave to each wallpaper (you can rate each image (5 stars rating system)).
Building playlists with a simple drag & drop
You can create an infinite number of new thematic playlists or edit existing playlists. Adding new wallpapers to your playlist is as simple as saying 'drag and drop'. You can even drag and drop folders. BioniX Wallpaper will add all images contained in that folder AND its subfolders.
More smart stuff
The playlist has a smart feature that allows you to cycle through the wallpapers in the playlist more evenly. This means that no image will be used more often than other.

Why did you throw it away? I would have eaten that....
To delete unwanted wallpapers from your playlist just press the "Delete" key. The deleted images will be sent to Recycle Bin so you can recover them in case you change your mind.
Categorize this... categorize that!
With BioniX Desktop Wallpaper Changer you can move your wallpapers predefined categories with just one click:
You can also rename wallpapers right from the playlist.
No duplicates please
You don't want to see the same wallpaper twice? The images that have been already shows on the desktop can be deleted with a single click.
Also, when you add new wallpaper to your playlists, BioniX Desktop Wallpaper Changer is smart enough to automatically detect and reject duplicates.
Only pretty wallpapers in the playlist please
BioniX Desktop Wallpaper Changer has filters that allow it to reject images that are not suitable as wallpapers (tiny images). It can reject images smaller/larger than certain size
Also, it can reject invalid (broken/corrupt) images.
Why are you running the Christmas playlist in March?
You can easily switch between playlists by double-clicking a playlist file in Windows Explorer. This way you can create thematic playlists (morning, evening, decent, not-so-decent (he-he)) and instantly switch between them.
MRU (What the hell is a MRU?)
BioniX Desktop Wallpaper Changer shows a list of Most Recent Used playlists in the main interface so you can quickly switch to them.
Not a party crasher
BioniX Desktop Wallpaper Changer is not a party-breaker. If invalid/inexistent images are encountered in the playlist, it will go on to the next image without bothering you with an error message. The error will be noted in the Log.

Pick a boo (or quickly preview your wallpapers)
You will not work blindly with your playlists. BioniX Desktop Wallpaper Changer shows a thumbnail for the currently selected image. The thumbnails are cached (and therefore they are really fast).

Playlist Editors are for the rich people
The playlist editor is indeed feature-reach. Here are some of these features: Delete wallpaper from hard drive, Delete wallpaper from playlist, Delete inexistent wallpapers, Delete duplicate wallpapers, Delete already played wallpapers, Clear playlist, Reset 'Played' column, Show wallpaper full path, Show drive letters, Acquire image resolution, Show extensions, Sort wallpaper by path, Sort wallpaper by resolution, Sort wallpaper by rating, Randomize playlist, Reverse playlist, Open playlist location in Explorer, Open Windows Explorer and navigate to the current selected image, etc.
Everything at your finger tips
Most used features are shown in a toolbar below the playlist. With a single click you can Clear Playlist, Delete selected files from playlist, Sort, Save and Open a new playlist.
Just ignore it...
BioniX Wallpaper can exclude wallpapers from playlist if their name contain a user-defined words (such as 'sexy').
Trick: You can put '.png' in your Ignore List to ignore all PNG files.
---
The never ending story
As you can see, this page is looong even we left out lots and lots and lots of features. Almost every single feature enumerated in this page is customizable and there are literally hundreds of other features in BioniX Desktop Wallpaper Changer!
New features piles up every month. For example BioniX v9 had NO LESS than 113 releases in 2017.
Here are the features that we plan for the near future.